About the Game
UpFront is a game for players aged 11 – 16, but we hope everyone will enjoy playing!
UpFront is a simple, fun football/soccer game, with added educational value; promoting equality and inclusion by challenging discrimination and negative behaviour in the game.

You can download the Game from Google Play (formerly known as Android Market) free of charge on any device running Android. UpFront is unfortunately currently not supported by other mobile operating systems, like iOS (so you will not find it on Apple's AppStore) or Windows Phone (no appearance on Microsoft's Marketplace Apps+Games Store either).
In this multi-level game, users test their dribbling skills to tackle a range of obstacles whilst learning that discriminatory attitudes & behaviour have no place in football.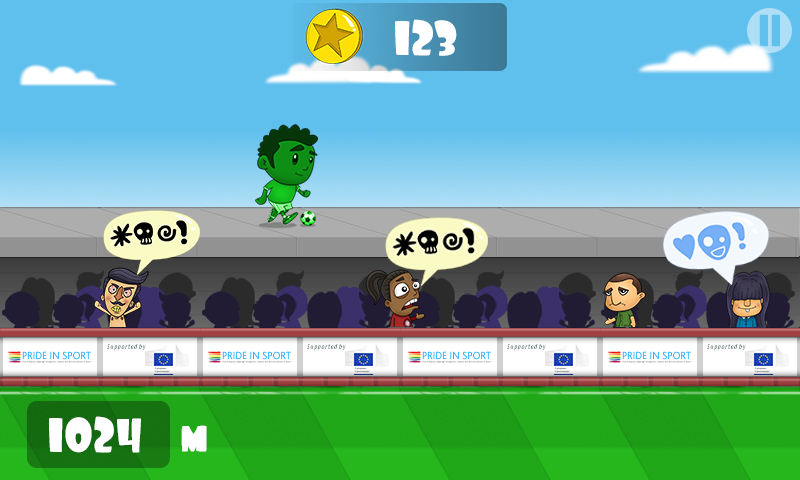 Discrimination and prejudice in any form hurts people and takes the fun out of sport. We hope that this game will highlight some attitudes in sport that need to be changed and challenged; namely:
Homophobia – negative attitudes and feelings towards people who are, or are thought to be, attracted to members of the same sex (gays, lesbians, bisexuals);
Transphobia – negative attitudes and feelings towards people who feel like their physical body is not the same as how they feel inside (e.g. a boy who really feels like he is a girl, or a girl who really feels like she is a boy);
Racism – negative attitudes and feelings towards people with different skin colours or ethnic backgrounds;
Sexism – attitudes of prejudice, stereotyping, or discrimination, aimed at people just because of their sex (gender) e.g. thinking that women should not play football and stay at home and clean.
UpFront is a fun game that can help you think about the attitudes and behaviours in sport.  We hope it will give you the courage to be an ally in the fight against discrimination. Even if you are not affected personally, what can you do to encourage others to stop their discriminatory behaviour?  How can you stand up and make a difference for others?
The game is a part of the Pride in Sport project, aimed at preventing and fighting homophobic violence and discriminations in sport. The EU project is run by the European Gay and Lesbian Sport Federation (EGLSF) and funded by the European Commission (DG Education and Culture, Sport). Other partners in the project are FARE, Pride Sports, Out in Slovenia, FSGL, FVV and Atlasz.
Get the Pride in Sport project in a nutshell or visit the official website www.prideinsport.info for more details.